Best Way to Produce Product Photography for eCommerce Business
If an image is essential for a thousand words, then a stunning product photography for ecommerce is one thousand websites visits. Generally, the product photography may not be as simple as shooting and pointing. And to eventually reach your super target audience members online, you should give your viewers eye-catching, clear, and convincing images of your products.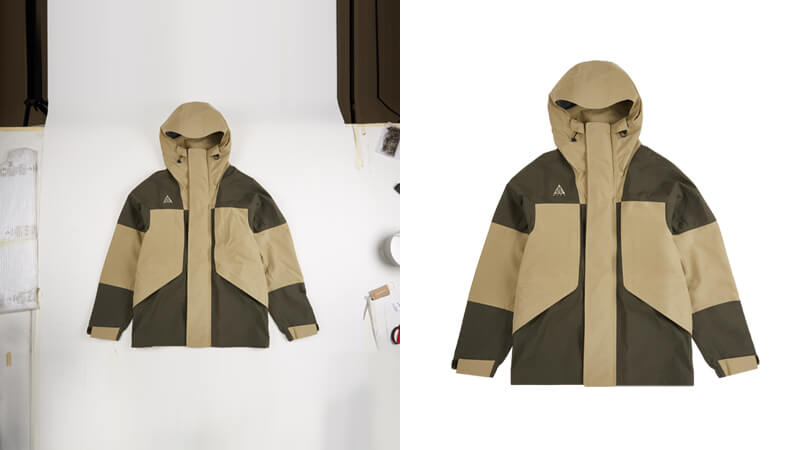 Even for basic product images, they need the right equipment, space to deliver beautiful & attractive images, and lighting that sell the shoppers from your purchase. Therefore, if you are looking to start an online business, you need a guide to photography for the best results.
Without further ado, allow me to take you through a simple and quick guide of the tips you need in product photography to market your products that your prospects and visitors want to convert. Believe you can do it, and by following the below tutorials, you will eventually achieve it.
Product photography will influence your store's conversion rate, sales and revenue. So this article gives you a deep understanding of what product photography is, why it is important, and 12 eCommerce product photography best practices to follow.
12 tips to conquer product photography for eCommerce
1. Take inspiration from your favorite brands.
It is always an advantage to look for your favorite product photos for inspiration. Take a look at their best product photography for eCommerce business, and then ask yourself how you can develop such shots on your products.
2. Understand the thirds rule
In almost all product photo classes, you will come across the thirds rule because they are helpful towards your success. This rule tends to teach someone how to perfectly visualize his canvas, similar to nine equal segments. Generally, this rule is great because it helps someone create high-quality and well-balanced composition in every piece.
3. Prepare photography tools
This is the first tip in the guide to product photography for eCommerce. It would help if you have the necessary tools and equipment before you start conducting your product photoshoot. It is not an expensive process simply because you need a good camera but also using other pro accessories if possible may be helpful. Luckily, we have picked low-budget and few DIY options for you:
– Use best camera or even smartphone to take you images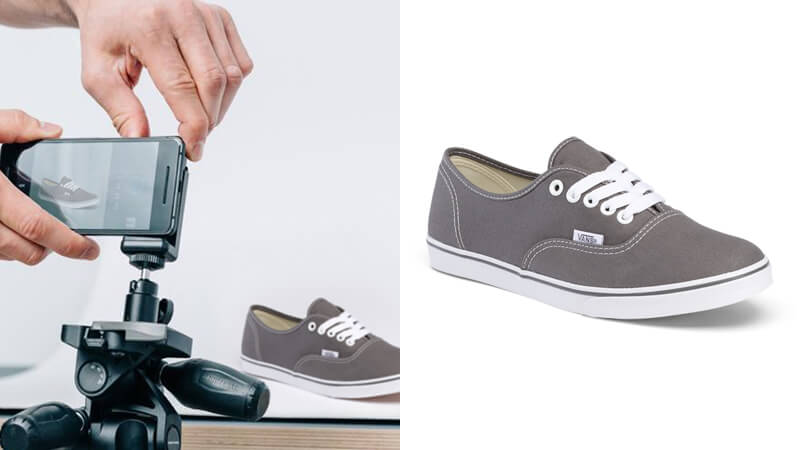 For some of us with limited resources, the smartphone will also help. However, ensure that your smartphone camera can outperform high-end DSLRs. Some of the top smartphones claimed to have high-quality camera includes iPhone 12 Pro, iPhone 11, iPhone 13, iPhone 12 mini, Google pixel, Xiami mi, Vivo, Samsung Galaxy, etc.
When it comes to camera investment, purchase a high-quality yet inexpensive camera that will last your for a long time and deliver the best. Canon EOS Rebel comes armed with enough 24.2 megapixel, very effective sensors, dual pixel, and high-speed shooting up to 6.0 frames in every second.
Further, it has the best DIGIC 7 photo processor, which produces professional images even when it's in low-light conditions. In fact, some of the popular Amazon, Instagram, and e-commerce images use camera phones to shoot.
4. Photographers Toolbox
This box is highly commended to beginners and even professionals if you need a smooth photographing session. Inside the product photographing toolbox, you should have:
– Tape
This tool is for keeping your things in a specific place while photographing. In this case, double-sided and clear tape works best.
– Clamps
You need these tools to perfectly hold a reflector or sweep in the same spot when shooting.
– Fishing line
You would find this fishing line helpful to hold small items and keep them steady.
– Paper and pencil
You may require to jot down important notes such as aperture width, which you may need to remember later or specifically written down.
– Coat hangers
For organizing and hanging your items or clothing
– Pocket scissors
This are great to remove loose fabric threads right in clothing products or cutting finishing line
– Safety pins
They are great when hiring a model, using a mannequin to typically ensure clothing items fit.
– Spare charger or batteries
Always ensure your camera or smartphone backup charge or battery in case the original one dies when shooting.
5. Get a good tripod for consistent, stable product photos
If you need your product images to be top-notch and pleasing, they should be consistent, crisp, and free from unwanted blurs. And to ensure you will eventually take the sharpest product images, invest in stabilizing accessory such as a tripod.
For people using smartphone camera, consider mounting it on a perfect location. Generally, tripods are vital stands which stabilize someone's camera from a shaky hand. Therefore, if you are using the best photography tripod, it ensures no blur in your images, making them high-quality and professional.
6. Get the best product image lighting tools.
Appropriate lighting is among the major differences between amateur and professionally-created photography. Overall, you shooting lighting is the main thing that holds new product photographers back. Remember, good lighting improves your entire image quality, meaning you require proper lighting to eventually illuminate your products.
Besides, there are two selections for your product photography illumination, natural lighting and studio lighting. In this case, the platform which someone is advertising, the purpose of your image, and the product which you are photographing will typically aid you to decide the best setup to choose.
However, the natural lighting tends to work well in product photographs, which feature people, edible items, and clothing, as well as in social media contexts such as Instagram. On the other hand, for products used in indoors, being sold on Google shopping, Amazon you will need artificial product lighting for best results.
7. Use simple pros
If you are beginners in product photographing please do be so much ambitious. This is because the major focus of every product photograph must be your product. Thus, props can help brighten and be welcoming to your viewers.
When it comes to props, it would help when erring right on right side of illumination, then keep them aligned, simple with color scheme as well as relevant to your product and scene.
8. Shot on white backdrop
To ensure that you get excellent end results, the experts recommend to shot your product images on clear white backdrop. This is because such a backdrop can significantly lower specific amount of post-processing and editing, which you should do later.
Thus, it helpful also when creating the consistent appearance of your product photos in the eCommerce store to make it professional and more attractive.
9. How to set camera for high-quality product images
Largely the quality of your images depends on the camera settings. Below is a simple and quick step walk to give you basic and helpful camera setting recommendation for product photography:
– Opt largest resolution and highest quality setting
– Set the ISO to typically control brightness of your images
– Set aperture width to perfectly change the depth of the field
– Select the shutter speed which can give you the best crisp images
To get high quality images for your E-commerce store, you car try product photo editing service from Image Clipping Path India.
10. How to set your smartphone for product photography
As we discussed above smartphone with a good camera can as well serve you while you save money to purchase the real thing. Below are top guidelines to enhance images you capture using the phone:
– Find your smartphone manual image settings
– Select the highest resolution/quality setting you can
– Avoiding zooming in when shooting
– Use the rear-facing camera rather than a selfie cam
– Edit and try playing around with basic settings such as contrast, brightness, white balance, use the app, and sharpness.
11. Explore different angles
Consider taking images from different angles to typically represent your product in numerous ways. In this case, try the close-up best macro shots for things such as skincare products, jewelry, and food products.
12. Take the picture and evaluate
After taking the product image, take your time and get to know what you are eventually created. And this is where education and experience come in what is not working, what is working, and what you can do to typically make it better. Further, experiment in various ways to make your product image professional, and with time, your creativity and skills will naturally improve.
Final verdict
High-quality, eye-catching and professional product photo images are every businessman's dream. This is because beautiful product images are among the top ways that attract potential customers to buy from our website. Luckily by following the above product photography guide for eCommerce, you can as well produce fantastic images and get more creative as you wish.