Introduction to Clipping Path
Clipping path or Cutout image background is basically a graphic illusion that is created in an image to make it look better. Sometimes when we capture a photo, we couldn't get it as our expectation because of the lighting, the skin tone, or the environment. In this case, we can use clipping path to change the effects, backgrounds, skin tone, color adjustments and so many things to make a photo look like exactly we wanted to be. Image Clipping Path India provides high quality photo clipping path services which will boost your business.
How To Do Image Clipping Path?
If you want to create a great clipping path is not as hard or impossible as one might think. It certainly only takes practice and effort, you can begin making perfect clipping path works with your expectation. The first thing you need to do is to clipping path Photoshop and take the pen tool for drawing a path around the image itself.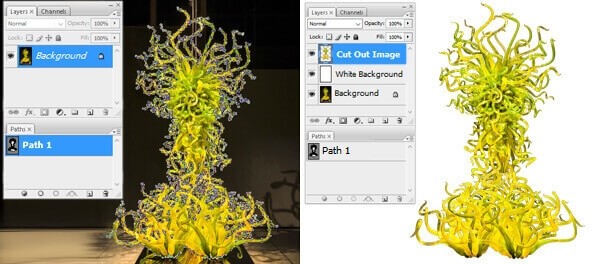 It does not have to be completely perfect as you are not cutout background removal experts, but it should be a specific part where you want to improve and want to be clipping path king. Next, you need to select the Paths panel, which you will see a save option for you to click in clipping path services. After all these you can save it and can move on to the further fun part.
Now you should select the clipping path option for the edit. If you want there is image pixels text field to create either faster processing time or more meticulous visual whether what your target is. In this case the higher the pixel we count though, the more straight the edges we will get.
Not to forget, an image always depends on pixel and clipping path is depends on them pixels like it's a proportional to each other. On the other hand if you want quality output of clipping path you have to know about pixels of an image.
Using Multiple Clipping Path Effectively in Photoshop:
Almost all the persons think that, producing quality of images or photos in a stage like Photoshop is very easy and fast. How the wrong can they do actually be? Truth is that when you need more type of commitment and perseverance whenever trying to make a standout images using Photoshop by the multiple clipping path feature.
By using the clipping path Photoshop is one of the most notable and super quality features of adobe Photoshop but one and only a few group of persons can really understand how to put on this feature to good and significant use.
Are you one of those struggling to make the needed impacts on your Photoshop designs using it's by multiple clipping path characteristics? Then take relax and to read this write up below from start to finish because of you will not only learn how to do it but you will become pro-active in no time.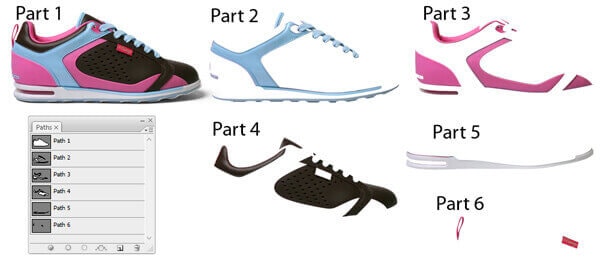 Use the Pen Tool:
Almost all people underrate by the use of the pen in making a useful use of the clipping path feature in the Photoshop.
Some haven't even feel the comfortable making to use of it because they feel it is so complex.
If you can't create good use of the pen tool then you cannot be able to use the multiple clipping path feature in an effective smooth path. Locate the pen tool and continuously hold on it for some moments then you will be able to see other auxiliary parts that you can use for this way. Some of the tools that you will find in are that:
Convert the point tool
Delete an anchor point parts
Add the anchor point tool
Without having a good knowledge of when to use these types of tools and when not to, you may not be able to properly using the path feature of this application.
Vestige the Image: You have need to make sure that the edges of the image are properly traced to locate to it that there is an anti–aliasing. The cause for this is to have any kind of blue ghost that may want to surface around the final cut out of the image or photos removed.
Vestige doesn't acquire any of kind of exceptional skill to perfect. Just play the roll around the picture and you will be ok. However, try to make sure that when you desired a saving path that you don't choose flat picture or clipping path multiple objects.
Cut Out Image the portion Softened: This is the way where the multiple clipping paths svg feature get a little bit complex. Sometimes after doing the above, it is not impossible that your pictures or object may just be out of the focus. At this point of view, you should learn how to use the layer properly to make a more realistic image.
We are too much negotiable towards the first task. Clipping path is a useful process where we maintain the topmost quality. So, check our details.
1. Request a quote for the images you need edited
2. Receive an email with your quote in 45 minutes or less
3. Give us the green light to move forward with your project
4. Get your images in as little as six hours
About Photo Clipping path Services and quality
The path makes on exactly 0% color count to remove background then the quality will be zero for sure, and the image will be looking pretty bad. Surprisingly on the other hand If the path makes on near 100% color count to remove background then some part of image is cutting off , in that case it is very much harder to take decision on how to keep the quality.
What's the customer's requirement? What is the size of the image and resolution? And after cutting off the image what background should be placed? All these attributes are defining of how many pixels can cut off to remove blurry area or how the path can be done.
If the path makes on below or above near 100% color count like 60%, 50%, 40% as customer requirement or image structure then we must do the path selection on blurry area contract with image size and resolution then apply the feather & Gaussian blur to complete the background enhancement then you can adjust with the new background.
How our experts do clipping path or deep etch
The actual accuracy of a skilled professional expert is using the Pen Tool far better than what is achieved through any automated functions and tools.
As a result, our experts never use any other tool such as the Magic Wand for quick selection and path creation to do the process quickly. Similarly if we look, all the automated and pre-configured tools in clipping path Photoshop software packages and server solutions.
And with heavy use of algorithms we have tested on various project are either imprecise with parts of the background still visible or exceptionally ragged with an edge that looks pixelated and not usable in a professional context.